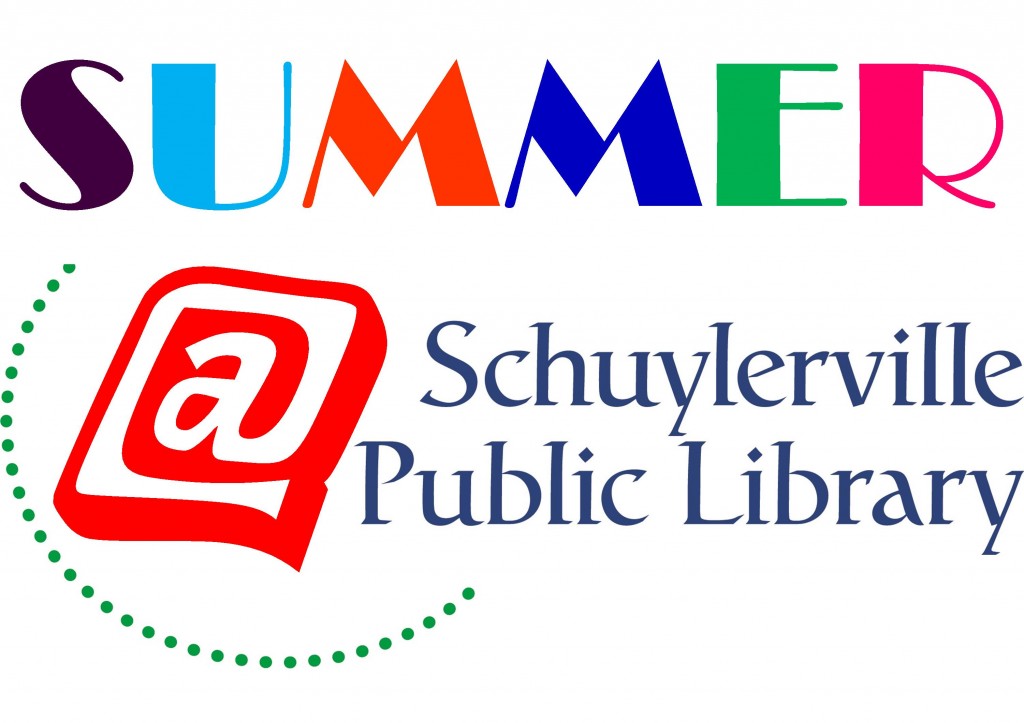 Libraries Rock!

Summer Reading Program
Read books all summer long with Schuylerville Public Library!
Kids & Teens: Each week track your reading with our weekly BINGO sheets—online with Beanstack or with our paper tracker—and turn them in to the library for our weekly prize (everyone who turns in a bingo sheet receives a prize). All completed BINGO sheets will be entered into our big end of summer drawing as well!
Weekly prizes include free ice cream from Farmer's Daughter and special prizes from Old Saratoga Mercantile. End of summer drawing prizes include movie tickets, Five Below gift certificates and more.
Paper BINGO sheets may be picked up at the Library, or downloaded here. For online tracking visit: schuylervillelibrary.beanstack.org/reader365
This summer, adults may enter to win a raffle basket for every book read.  Just ask for a ticket after you've completed a book or enter online at Beanstack!

Summer Meals
From July 2nd to August 31st, Monday through Friday the Schuylerville Public Library is serving free summer meals for kids and teens from 11:30am to 1pm.  *except on July 4 (closed for holiday). Grab a sandwich, salad, fresh fruit, and cold milk every day.
If the weather is nice—we will be outside playing games and eating lunch. If the weather isn't nice—lunch is inside and we will have all sorts of things to do.
No registration required.  Meals must be eaten on site. Available to all children 18 years and under every weekday! This
program made possible by Captain Youth Services. Questions, please call 518-371-1185 or visit captaincares.org
Summer Programs
Summer Kick off Ice Cream Party: Register for summer reading and check out our awesome library. This is a rain or shine event. Super thank you to Stewarts for the Ice Cream and the Friends of the Library for making this possible. Friday July 6th at 3pm ~ Open to all ages
End of Summer Party: All good things must come to an end; for 6 weeks we read, filled out bingo sheets, and attended programs, and now its time to say goodbye to summer. End of summer prize drawings and snacks! Saturday August 18th at 3:30pm  ~ Open to all ages
Wonderful Wednesdays
Beth Jacobs, Books & Dance: Beth will lead some dances based on our favorite kids books. Wednesday July 11th at 6pm ~ Open to all ages
River Jack (of the Zucchini Brothers): Explore the craft of songwriting by writing and recording a song that is uniquely their own. They work cooperatively to form a musical composition by: brainstorming ideas, writing lyrics, composing a melody, and gaining personal experience with the creative process. Wednesday July 18th at 6pm ~ Open to students grades 4 and up
Rural Soul's Hands-on Ukulele Lesson: Registration required.  Learn how to play this fun instrument. Wednesday July 25 at 6pm ~ Open to kids 8-18

Mr. Romack's Creatures: live animals and critters with local science educator Howard Romack.  Wednesday August 1 at 7pm ~Open to all ages
Lip Sync Battle: lip sync your way to a prize!    Wednesday August 8 at 6pm ~Open to all ages
Tri-Town Music Showcase: communities come together to celebrate summer, featuring musical talent from Cambridge, Greenwich, and Schuylerville.  *Located at Mowry Park, Greenwich. Wednesday August 15 at 6pm.
Morning Programs
Story Time: Join Miss Holly in Story time for a few stories then an art project or activity. Wednesdays at 10am ~ Age 2 yrs and up
Kindergarten Readiness: Our award winning kindergarten readiness program is back for our summer session. Miss Jenny will lead students in circle time and stations to cover everything from writing to socialization as we count down to kindergarten! Registration Required. Tuesdays and Thursdays at 10am ~ Age 3 1/2 yrs and up. 

Special session on Mondays at 10am for new students!



Afternoon Programs
Music and Movement Kids Hour: Join Miss Jenny in some moving and grooving Mondays at 2pm ~ ages 2-6yrs

STEM Build It: Sharpen your STEM learning skills over the summer. explore many stations; each with a specific building challenge and unique materials. Tuesdays at 2 pm—Ages 5 and up
Wednesday Clubs Days: Enjoy a rotating theme each week, including Movie Makers, Upcycle club, DIY club, and Book club Wednesday afternoons–Ages 5 and up
Rocks Rock: Learn all about geology at this fun hands-on program Thursdays at 2pm –Ages 5 and up
Lego Club: Drop by the library for our open ended building session of Lego Club. Fridays at 2pm ~ Ages 5 and up
Saturday Programs
Peaceful Warrior Camp: watch some martial arts like Taekwondo and learn to be a peaceful warrior Saturdays in July at 2pm– Ages 3 and up
Demo-Dance Camp: see some amazing dancers in action and learn about what they do Saturdays in August at 2pm –All ages