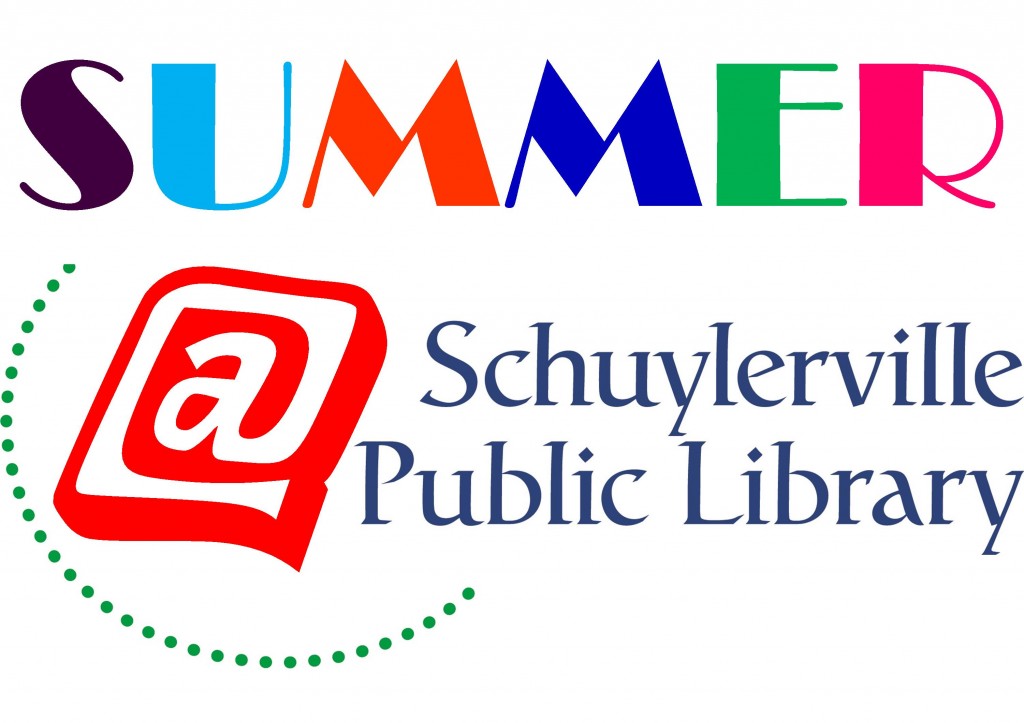 Imagine Your Story!

Summer Reading Program
Read books all summer long with Schuylerville Public Library!
Kids & Teens: Each week track your reading with our weekly BINGO sheets—online with ReadSquared .  Everyone who completes a bingo sheet online will be entered into our end of Summer Raffles and the more bingo sheets you complete, the more chances to win!  Enter your minutes read as well for more chances to win.  We have some cool prizes like gift cards from Menchies, Amazon, Applebee's, Bow Tie Cinema and more and some fun baskets full of awesomeness.

Summer Meals
From June 29th to August 28th, Monday through Friday (except July 3) the Schuylerville Public Library is serving free summer meals for kids and teens from 12pm to 1pm.  Grab a sandwich, salad, fresh fruit, and cold milk every day.
No registration required.  Please call 518-695-6641 from your vehicle to let library staff know that you are there to pick up or knock on our front door.  Meals may be taken away to eat this year due to the library's partial closure. Parents may pick up the meals for their children.  Available to all children 18 years and under every weekday! This program made possible by Captain Youth Services. Questions, please call 518-371-1185 or visit captaincares.org
Summer Programs
Wonderful Wednesdays
*River Jack Z Songwriting Workshop:  *Online Event*   River Jack Z is perhaps best known as guitarist and vocalist for the renowned Zucchini Brothers group and now the Tick Brothers. Jack will spend about 50 minutes writing a song with participants. This program is a lot of fun for the whole family and very interactive!  Participants will receive a recorded song file after the program to enjoy for years to come.  Recommended Ages 7+  July 1 at 6pm  Please Register

*Imagine the Magic! *Online Event*   Join Chris of MagicMan Entertainment for a fun 45 minute free show!  Fun for the whole family.  All Ages July 8 at 6pm Please Register

*Dancing to Stories with Lili Loveday: Join Lili Loveday for a fun dance program for ages 3 1/2 – 10.  Children will use their imaginations to create dances to stories. Emergent literacy skills such as expressive gesture, language, predicting and sequencing, as well as social skills such as cooperation and taking turns are integral to this workshop.  Please bring a mask, wear comfortable clothes, bring water and sunscreen and insect repellent.  Bring a silky scarf to dance with if you can. *This event will take place at Hudson Crossing Park's Play Garden Maze on Route 4 north of the village of Schuylerville (GPS address is Co Rd 42, Schuylerville, NY 12871).  There is a parking lot available but no facilities.  Please maintain social distancing of 6 feet.  The park requests that visitors refrain from using play garden slides, tunnels, swings, and pavilion picnic tables to avoid potential contamination.  *Raindate is Wednesday July 22 and 6pm at the same location.  Participants will be emailed if bad weather is forecast.    Ages 3-8 recommended  July 15 at 6pm  Please Register

*Uncharted Wild Animal Show:  *Online Event*    Meet the animals from Uncharted Wild live on Zoom. The show lasts about one hour and features animals like an arachnid, tortoise, giant frog, big lizard, 8 foot snake, hedgehog, etc. Learn all sorts of interesting animal facts.  All Ages July 29 at 6pm Please Register

*Puppet People Present the Three Little Pigs:  *Online Event*   Join the Puppet People live on Zoom for a wonderful 40 minute show, geared toward 3-8 year olds. They retell the classic tale of the Three Little Pigs in a fun inventive fashion. You won't want to miss this one!  Ages 3-8 years recommended August 5 at 6pm Please Register

*Songs for Kids of All Ages:   *Online Event*   Bill Ackerbauer loves to get kids excited about participating in live music! He encourages sing-alongs, movement and silliness as he performs traditional and original material with guitar, banjo, fiddle, harmonica and other instruments: Bill has more than 20 years' experience as a singer, songwriter and multi-instrumentalist.  Kids and adults alike will enjoy this show!  Participants will receive video links to enjoy at their pace. All Ages August 12 at 6pm Please Register

Morning Preschool Programs
*Virtual Story Time: Join Miss Holly and some friends from Hudson Crossing Park, Greenwich Free Library, Rural Soul, and more for a fun virtual story hour. Wednesdays at 11am ~ All Ages *On Facebook Live

Afternoon Children/Teen Programs
*Movie Makers:  *Virtual Event* Movie Makers is a program for kids and teens where we make movies for Youtube. Permission slips must be filled out and signed prior to filming. Mondays at 3pm ~ Ages 5-18  Please Register

*Graphic Novel Workshop: *Virtual Event*  In this workshop we will be using an online graphic novel designer to create our own individual stories. Upon creation, these stories have the opportunity to become part of a collection to be circulated throughout the Southern Adirondack Library System Collection! Tuesdays at 3pm ~ Ages 8-18  Please Register

*RPG Video Game Maker Academy: *Virtual Event*  Learn to use RPG Maker XP to create your own video game.  This takes some practice and a lot of patience but the pay off is amazing!  Thursdays at 3pm ~ Ages 10-18 Please Register
Children's Theater Camp
Join Drama Kids International as kids 8-17 attend a week-long theater camp for free. 

Registration required

. Campers will show off their creativity and deliver an originally scripted, self-directed performance. Campers will explore all aspects of theater, from acting and directing, to set design and more.  The Show Must Go Online! A Virtual Children's Musical will be a one-week summer boot camp that just happens to be online!  Students will have a week of intense fun for two hours each day (10am – 12pm) from August 17-21! The storyline is linear, made up of monologues with songs intended to be performed as solos. Actors will easily practice their parts, videoconference with the director, and have one on one coaching to make sure everyone's talents are at their very best. Students will be able to record their own video at home with their own props. When all the scenes are recorded and played in sequence, we will present a complete musical theater experience that will be available to showcase to all the student's family and friends across the world via YouTube.

Saratoga Arts made this program possible with a Community Arts Grant funded by the New York State Council on the Arts with the support of Governor Andrew M. Cuomo and the New York State Legislature.