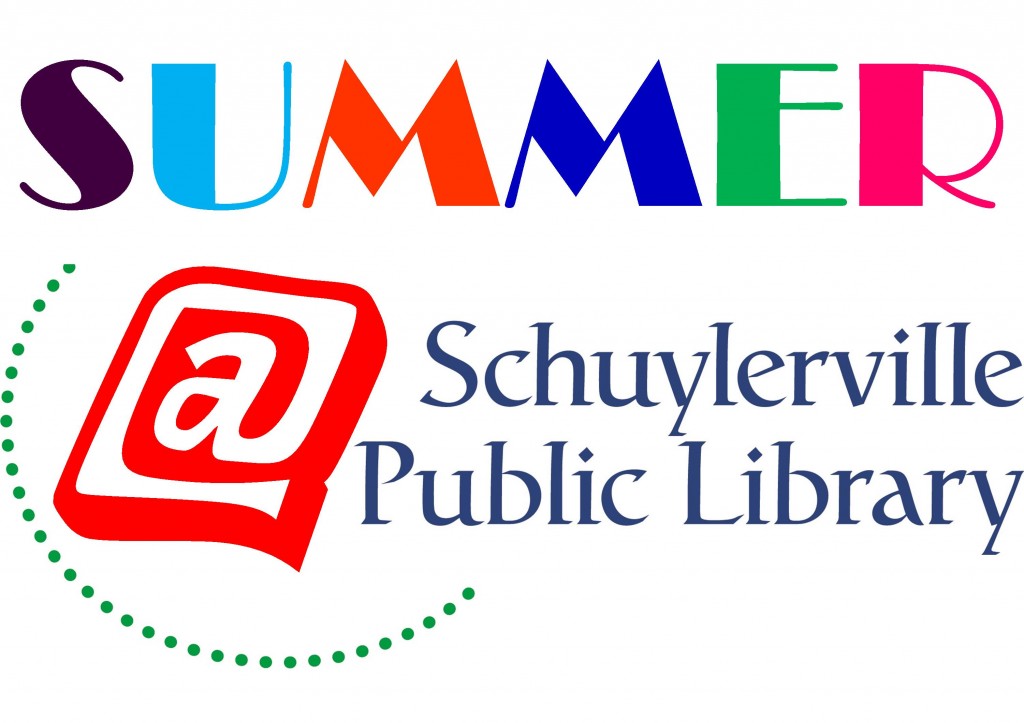 Imagine Your Story!

Summer Reading Program
Read books all summer long with Schuylerville Public Library!
Kids & Teens: Each week track your reading with our weekly BINGO sheets—online with ReadSquared or with our paper tracker—and turn them in to the library for our weekly prize (everyone who turns in a bingo sheet receives a prize).
Paper BINGO sheets may be picked up at the Library, or downloaded here and returned in person. For online tracking visit: http://spl.ny05.readsquared.com/


Summer Meals
From June 29th to August 28th, Monday through Friday the Schuylerville Public Library is serving free summer meals for kids and teens from 11:30am to 1pm.  Grab a sandwich, salad, fresh fruit, and cold milk every day.
If the weather is nice—we will be outside playing games and eating lunch. If the weather isn't nice—lunch is inside and we will have all sorts of things to do.
No registration required.  Meals must be eaten on site. Available to all children 18 years and under every weekday! This
program made possible by Captain Youth Services. Questions, please call 518-371-1185 or visit captaincares.org
Summer Programs
Wonderful Wednesdays
*River Jack Z Songwriting Workshop: River Jack Z is perhaps best known as guitarist and vocalist for the renowned Zucchini Brothers group and now the Tick Brothers. Jack will spend about 75 minutes writing a song with participants. This program is a lot of fun for the whole family and very interactive! Participants will receive a recorded song file after the program to enjoy for years to come. Recommended Ages 7+  July 1 at 6pm  Please Register

*Imagine the Magic! Join Chris of MagicMan Entertainment for a fun 45 minute free show!  Fun for the whole family.  All Ages July 8 at 6pm
*Dancing to Stories with Lili Loveday:  Children will use their imaginations to create dances to stories. Emergent literacy skills such as expressive gesture, language, predicting and sequencing, as well as social skills such as cooperation and taking turns are integral to this workshop. Ages 3-8 recommended  July 15 at 6pm
*Uncharted Wild Animal Show Meet the animals from Uncharted Wild.  The show lasts about one hour and features animals like an arachnid, tortoise, giant frog, big lizard, 8 foot snake, hedgehog, etc.  Learn all sorts of interesting animal facts.  After the presentation, the audience will be invited up to hold/pet most of the animals. All Ages July 29 at 6pm

*Puppet People Present the Three Little Pigs: 40 Minutes long, "I'll Huff and I'll Puff and I'll Blow Your House Down", howls the B.B. Wolf. Using beautifully designed puppets, colorful sets, humor, and audience participation, The Puppet People's retelling of this classic story is bound to have your audience asking for more!  Laugh and have a great time, while learning important lessons!  Be on the lookout for other familiar fairy tale characters along the way!  Ages 3-8 years recommended August 5 at 6pm
*Songs for Kids of All Ages:  Bill Ackerbauer loves to get kids excited about participating in live music!  He encourages sing-alongs, movement and silliness as he performs traditional and original material with guitar, banjo, fiddle, harmonica and other instruments: Bill has more than 20 years' experience as a singer, songwriter and multi-instrumentalist.  Kids and adults alike will enjoy this show!  All Ages August 12 at 6pm
Morning Preschool Programs
*Virtual Story Time: Join Miss Holly and some friends from Hudson Crossing Park, Greenwich Free Library, Rural Soul, and more for a fun virtual story hour. Wednesdays at 11am ~ All Ages
Afternoon Children/Teen Programs
*Movie Makers:  Movie Makers is a registration-required program for kids and teens where we make movies for Youtube. Permission slips must be filled out and signed prior to filming. Mondays at 3pm ~ Ages 5-16
*Graphic Novel Workshop: In this workshop we will be using an online graphic novel designer to create our own individual stories. Upon creation, these stories have the opportunity to become part of a collection to be circulated throughout the Southern Adirondack Library System Collection! Registration Required Tuesdays at 3pm ~ Ages 8-18
Children's Theater Camp
Join Drama Kids International as kids 8-18 attend a week-long theater camp for free. 

Registration required

.  Campers will show off their creativity and deliver an originally scripted, self-directed performance.  Campers will explore all aspects of theater, from acting and directing, to set design and more.  Camp will run Mon-Fri August 17-21, from 1:30-4pm at the Library, with a performance for family and friends after the last class.
Saratoga Arts made this program possible with a Community Arts Grant funded by the New York State Council on the Arts with the support of Governor Andrew M. Cuomo and the New York State Legislature.