Announcements
COVID Updates   
*The Library is open for browsing and public computer sessions during our regularly scheduled hours of operation (Mon thru Fri 10-8 & Sat 10-2).  Anyone over the age of 2 who enters the building must wear a face covering at all times.  No seating or in-person programming will be available at this time.  Please limit browsing to 1 hour per day.
---
RETURNS:
Please place all Library returns in the front porch return bin.  Materials will be kept in quarantine for 2 days or more upon return and will remain on patron's accounts until that time is up.

*At this time, we cannot accept donations
---
Board of Trustees Meeting April 13, 2021 at 7pm
*This meeting will be held virtually, so any members of the public, wishing to attend, should email cjohnson@sals.edu for access prior to the meeting.  Public is always welcome!
Those interested in running for one of three open seats on our Board of Trustees, should Print & Complete this Petition, then turn it into the Schuylerville Central School District Clerk on or before April 19, 2021 at 2:30pm to be included on the ballot in May. 
---
Apply for a Temporary Library Card Online Now: Please apply only if you do not already have a library card in the Southern Adirondack Library System.  The registration process may take up to two business days and you will be notified via email when it is complete.

---
---
Upcoming Events
Guided Meditation with Susan Meyer Tuesdays at 7pm
Virtual Story Time ~each Wednesday at 11am
For a full list of Crafts and Activities See Calendar
---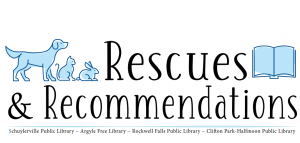 Find your new pet and/or library materials, or upload recommendations here!
New Materials