Announcements
COVID Updates   
*The Library is open during our regularly scheduled hours of operation (Mon thru Fri 10-8 & Sat 10-2).  
Masks are no longer required indoors for those fully vaccinated against COVID-19 nor outdoors for anyone.  Food and drink is still prohibited indoors for all.  Public seating and computers are open.
Curbside pickup is still available by calling 518-695-6641 from our parking lot during open hours. 
---
*We do not accept donations
---
Board of Trustees Meeting August 17, 2021 at 7pm at the Library–the Public is always welcome!
Apply for a Temporary Library Card Online Now: Please apply only if you do not already have a library card in the Southern Adirondack Library System.  The registration process may take up to two business days and you will be notified via email when it is complete.

---
---
Upcoming Events
Guided Meditation with Susan Meyer Tuesdays at 7pm
Virtual Story Time ~each Wednesday at 11am
For a full list of Crafts and Activities See Calendar
---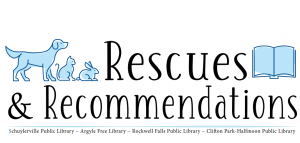 Find your new pet and/or library materials, or upload recommendations here!
New Materials