Announcements
COVID Updates   
*The Library is open for browsing and public computer sessions during our regularly scheduled hours of operation (Mon thru Fri 10-8 & Sat 10-2).  Anyone over the age of 2 who enters the building must wear a face covering at all times.  No seating or in-person programming will be available at this time.  Please limit browsing to 1 hour per day.  Curbside pickup is still available by calling 518-695-6641 from our parking lot during open hours.
---
*At this time, we cannot accept donations
---
Board of Trustees Meeting June 8, 2021 at 7pm
*This meeting will be held virtually, so any members of the public, wishing to attend, should email cjohnson@sals.edu for access prior to the meeting.  Public is always welcome!
We are hiring!  A part-time Substitute Library Clerk position is open.  Preference will be given to those with availability in the evenings and Saturdays and the schedule will be fluid and based on staff absences.  Click here for a full description and info on how to apply!
There are 3 Seats Open on our Board of Trustees.  Trustee Petitions are due to the Schuylerville Central School District by April 19, 2021.  The three candidates who receive the highest total number of votes shall each fill a three-year term ending in 2024, created by the expiration of the current trustees Dennis Kagel, Courtney Sayward, and Katie Brunson.
---
Apply for a Temporary Library Card Online Now: Please apply only if you do not already have a library card in the Southern Adirondack Library System.  The registration process may take up to two business days and you will be notified via email when it is complete.

---
---
Upcoming Events
Guided Meditation with Susan Meyer Tuesdays at 7pm
Virtual Story Time ~each Wednesday at 11am
For a full list of Crafts and Activities See Calendar
---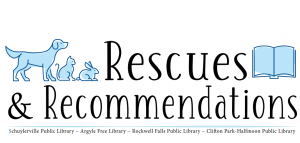 Find your new pet and/or library materials, or upload recommendations here!
New Materials