Announcements
COVID Updates   
*The Library is open during our regularly scheduled hours of operation (Mon thru Fri 10-8 & Sat 10-2).  
Masks are required indoors for everyone over the age of 2, but not outdoors for anyone.  Food and drink is still prohibited indoors (unless part of a library-sponsored program).  Public seating and computers are open. Computers available for one hour per day.

Curbside pickup is still available by calling 518-695-6641 from our parking lot during open hours. 
---
*We do not accept donations
---
Board of Trustees Meeting October 12, 2021 at 7pm at the Library–the Public is always welcome!
Apply for a Temporary Library Card Online Now: Please apply only if you do not already have a library card in the Southern Adirondack Library System.  The registration process may take up to two business days and you will be notified via email when it is complete.

---
---
Upcoming Events
Guided Meditation with Susan Meyer Tuesdays at 7pm
Virtual Story Time every other Wednesday at 11am
After School Animal Advocates Begins September 16th, registration required
Gamers Guild Library Arcade  Begins September 13th
For a full list of Crafts and Activities See Calendar
---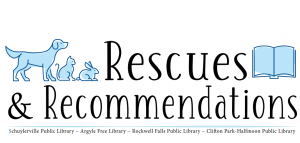 Find your new pet and/or library materials, or upload recommendations here!
New Materials