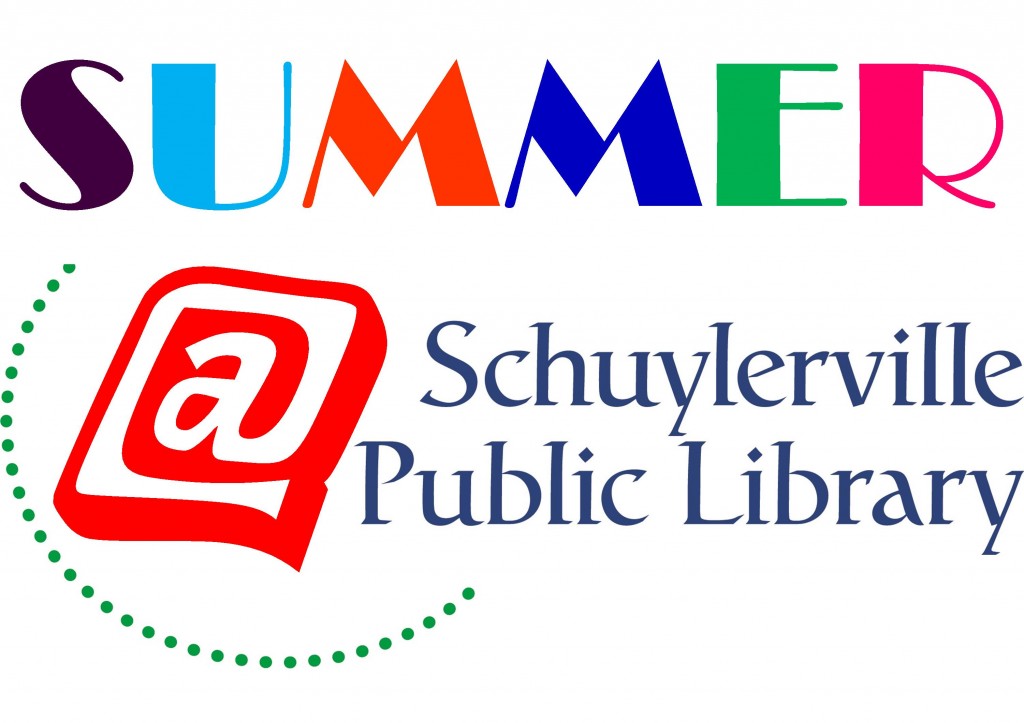 Build a Better Community this Summer!
Grab our Summer Booklet or Calendar!

Summer Reading Program
Read books all summer long with Schuylerville Public Library!
Each week track your reading with our weekly BINGO sheets—online with Beanstack or with our paper tracker—and turn them in to the library for our weekly prize (everyone who turns in a bingo sheet receives a prize). All completed BINGO sheets will be entered into our big end of summer drawing as well!
Weekly prizes include free ice cream from Stewarts and a free meal at Chipotle. End of summer drawing prizes include movie tickets, a gift certificate to 5 Below, and tickets for Adirondack Extreme.
Paper BINGO sheets may be picked up at the Library, or downloaded here. For online tracking visit: schuylervillelibrary.beanstack.org/reader365

Summer Meals
From June 26th to September 1st, Monday through Friday the Schuylerville Public Library is serving free summer meals for kids and teens from 11:30am to 1pm.  *except on July 4 (closed for holiday). Grab a sandwich, salad, fresh fruit, and cold milk every day.
If the weather is nice—we will be outside playing games and eating lunch. If the weather isn't nice—lunch is inside and we will have all sorts of things to do.
No registration required.  Meals must be eaten on site. Available to all children 18 years and under every weekday! This
program made possible by Captain Youth and Family Services. Questions, please call 518-371-1185 or visit captaincares.org
Summer Programs
Everything else
Summer Kick off Ice Cream Party: Register for summer reading and check out our awesome library. This is a rain or shine event. Super thank you to Stewarts for the Ice Cream and the Friends of the Library for making this possible. Monday July 10th at 3pm ~ Open to all ages
River Jack (of the Zucchini Brothers): Explore the craft of songwriting by writing and recording a song that is uniquely their own. They work cooperatively to form a musical composition by: brainstorming ideas, writing lyrics, composing a melody, and gaining personal experience with the creative process. Thursday July 27th at 6pm ~ Open to students grades 4 and up
Family Movie Night: Join us for "The Goonies" (PG) for our summer family movie night. Friday August 11th at 6pm ~ Open to all ages.
End of Summer Party: All good things must come to an end; for 6 week we read, filled out bingo sheets, and attended programs, and now its time to say goodbye to summer. End of summer prize drawings and pizza! Saturday August 19th at 2pm  ~ Open to all ages
Wonderful Wednesdays
Annie Dwyer, Illustrator: Schuylerville Alumni, and professional illustrator will speak to the families about her profession, share her book and guide the children in a project. Wednesday July 12th at 3pm ~ Open to all ages
Price Chopper kids cooking: Jodie Fitz and a Price Chopper registered dietitian bring fun, hands-on food and nutrition activities to kids , with a special healthy treat for all kids, courtesy of Price Chopper. Wednesday July 19th at 3pm or 4pm~ Registration required, Open to students grades 2 to 5.
Birds of Prey: A Wildlife Rehabilitator and Educator from the Wildlife Institute of Eastern NY will bring live birds of prey in this informative and interesting program designed for children and families. Wednesday July 26th at 6pm ~ Open to ages 5 and up.
Howard Romak: Biologist and educator will share with us the unique critters found in our area. Get ready to see, touch, and learn about all sorts of creatures! Wednesday August 2nd at 6pm ~ Open to all ages.
Community Night: Join us for an evening to meet and mingle with members of your community. Lawn games, local fire department, and more. This is an outdoor program. Wednesday August 9th at 6pm ~ Open to all ages
Planetarium: Fasten your seat belts as we travel past all the planets, spin through the asteroid belt and count the many moons of our Solar System.  Students will compare the planets on many levels.  They will discover what makes the planets spin/rotate and how and why they orbit.  The Grand Finale to the Milky Way is worth the trip. This program is made possible, in part, by the Saratoga County Youth Bureau, the Southern Adirondack Library System, and the Office of Children's and Family Services. Wednesday August 16th at 3pm ~ Open to all ages
Morning Programs
Yoga Story Time: Start the week off with Yoga at the Library. Miss Brittany will lead parents and children in a yoga pose and breath of the day, read a story, and then practice yoga that aligns with the story. Mondays at 10am ~ Age 2 yrs and up
Story Time: Join Miss Brittany in Story time for a few stories then an art project or activity. Wednesdays at 10am ~ Age 2 yrs and up
Library Babies: Library Babies gives babies great opportunities for tummy time and socialization. Fridays at 10am ~ Age 6 months to 18 months
Kindergarten Readiness: Our award winning kindergarten readiness program is back for our summer session. Miss Jenny will lead students in circle time and stations to cover everything from writing to socialization as we count down to kindergarten! Registration Required. Tuesdays and Thursdays at 10am ~ Age 3 1/2 yrs and up
Baby Sign language: Join certified Baby Sign Language instructor, Christina Napoletano as she leads children and their caregivers through ASL vocabulary, music and play. Themes include Potty Time and the Outdoors. Friday August 4th, 11th, and 18th at 1:15pm ~ Age 3 months to 5 yrs
Afternoon Programs
Lego Club: Drop by the library for our open ended building session of Lego Club. Mondays and Fridays at 3pm ~ Ages 6 and up
Magic Tree house Book Club: Explore the world with Jack and Annie! Each week we will discuss a different book, try some new food, and complete an art project.  If you or your child have a food allergy please let us know! Tuesdays at 3pm ~ Ages 6 and up
Open Art Cart: Explore a myriad of process art methods and experience a variety of materials. This activity will feature many process art projects.  Wednesdays at 2 pm – Ages 6 and up
Build-It Thursdays: Sharpen your STEM learning skills over the summer. explore many stations; each with a specific building challenge and unique materials. Thursdays at 2 pm—Ages 6 and up
River Keeper Club: An opportunity for people of all ages to learn and explore the topics of nature, ecology, and conservancy at Hudson Crossing Park. All children must be accompanied by an adult. Program meets at Hudson Crossing Park. Fridays at 2 pm — All ages