Schuylerville Public Library
Story Time
Story Time Monday Through Friday @10am
Babies in the Library Fridays @9am
 Upcoming Events 
After School Club Monday through Friday @3:30pm 
Hour of Code – Wednesday December 7 @6pm
A few questions have come our way about "Hour of Code".
For one hour, we are inviting anyone who is interested in computer coding to spend an hour coding. Utilizing, code.org each participant will explore and learn all about basic computer coding.
Why? Computers are everywhere in our lives, not only should we learn how they work and what they do but foster interest in younger children/teens as this is one of the fastest growing job industries.
Christmas Carol with Traveling Lantern Theater Co. – Friday December 9 @6pm
Book Fair held at Barnes and Noble – Sunday December 11 @10am to 9pm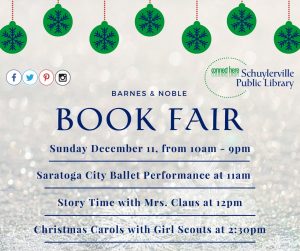 Board Meeting – Tuesday December 13th @7pm
Chat over Pizza – Wednesday December 14th @5pm
Handmade Holiday – Thursday December 15th @6pm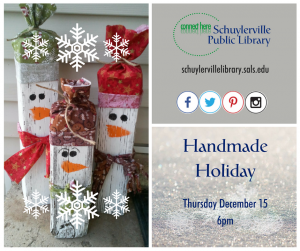 Genealogy  – Tuesday December 20th @10am
CLOSED for Holidays – Saturday December 24 & Monday December 26
Winter Break at Schuylerville Library!
Tuesday December 27 to Friday December 30