Welcome to 1,000 books before Kindergarten at Schuylerville Public Library!
What is "1,000 Books before Kindergarten"?
The "1,000 Books before Kindergarten" or "1K books b4 K" for short, is a pre-literacy effort aimed at encouraging families to read at least 1000 books to their preschooler, birth to age five, before they enter school. This program was developed to increase awareness of the importance of early literacy as well as encouraging parents to embrace their role as their child's first teacher. The goal of this program is to foster a love of reading that will last a life time and to help children enter school ready to learn. Reading is one of the most important things you can do to ensure your child's success when they begin school. It also provides an opportunity to increase their exposure to a wide variety of books, and to promote use of the library – a treasure trove of free material available to our community members.
How does "1K books b4 K" work?
Register your child or family and READ! For every 100 books you child or your family reads, bring the tracker to the library and add a sprinkle to our ice cream tower. Trust us, it's really easy to get to 1,000 books – 1 book every night for 3 years is 1,095 books.
Kick Start Bags
The Schuylerville Public Library has inherited the "1,000 books before kindergarten" program from the Schuylerville Elementary School! Combining the previous efforts of Schuylerville Elementary School and adding our own twist to the program – kick start bags. These books and bags have been donated to us by the Elementary School, each bag has 10 books – some science, some easy reader, and others a little bit of everything. These bags are not library items, you don't have to "check them out" and they don't have a "due date"; if something happens – it's okay, we just want to inspire a love of reading!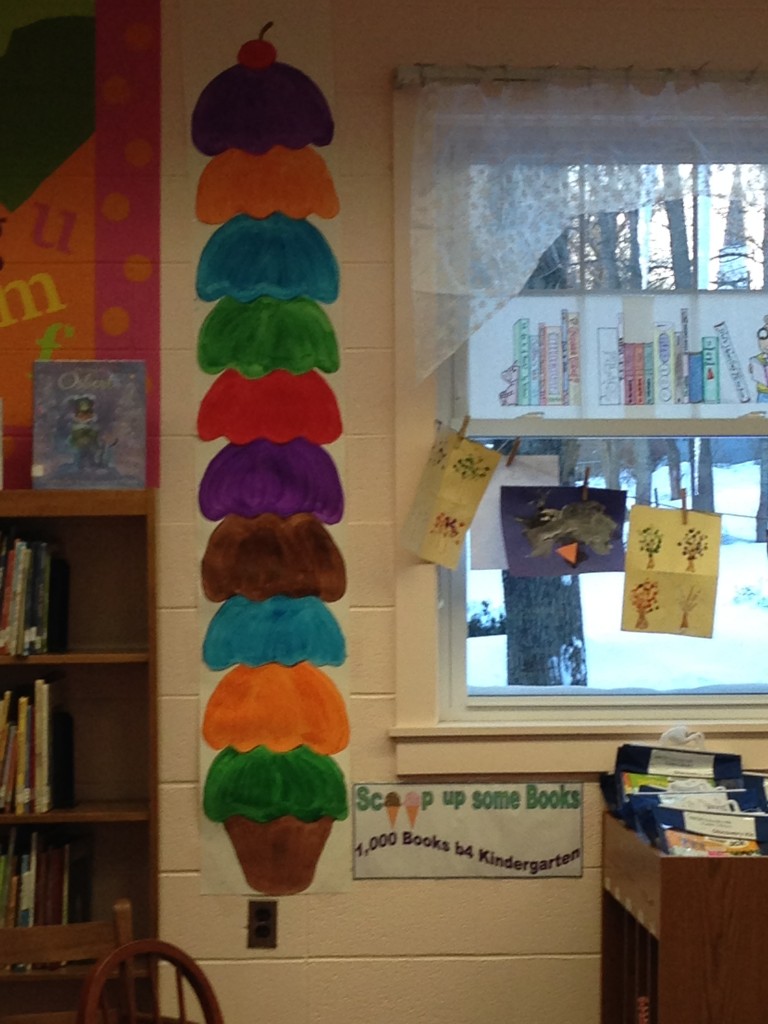 Check out our Super Ice Cream Tower!
For every 100 books your child or your family reads they can add a sprinkle to our ice cream tower!
Big thank you to the Schuylerville Elementary School for all of their help!
Registration
Click here to register online or download our registration form and bring it to the library.
Tracking
We have a couple ways to track what you have read. Just remember, for every 100 books you read you get to add a sprinkle.
1,000 Books App – for you smart phone or tablet users. Just scan the book and add it to your library, it keeps track of the books and can manage several readers.
Our handy paper tracker; simple yet elegant. Color in an ice cream cone for every book read.
Or try something a little different – GoodReads is a handy site that, with an account, you can mark books as read, get recommendations, rate books, and even create lists of books. This has a growth component, as you and your children grow – so do your interests in reading, a nice way to keep track of every book!